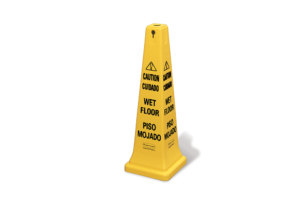 6 Ways To Improve Safety in Your Restaurant
There is an essential and ongoing need to step up floor safety in order to prevent falls, slips and trips for both employees and customers.  According to the U.S. Department of Labor, slips, trips and falls account for about 25 percent of all reported injury claims per fiscal year and more than 95 million lost work days per year.  Not only do slips, trips and falls cost restaurants a lot of lost work days, but they also cost a restaurant $22,500 on average per injury.
In general, slips and trips occur due to a loss of traction between the shoe and the walking surface or an inadvertent contact with a fixed or moveable object which may lead to a fall.
There are a variety of situations in your restaurant that could cause slips, trips and falls. Some of the most common causes are wet or greasy floors, shoes with wet soles, uneven walking surfaces, dirty grout and electrical cords or cables.
Following these six key safety guidelines will help you create a safer and more profitable restaurant:
Get in a Routine – Enforce Proper Floor Cleaning

Restaurant floors endure a staggering amount of contaminants that reduce the floor's traction.  Everything from common foot-traffic to spills of grease mix can make the floor a potentially very slippery surface.
Reduce Wet or Slippery Surfaces

Walking surfaces account for a significant portion of injuries reported.  The most frequently reported types of surfaces where these injuries occur include sidewalks, parking lots and areas where trash collects.
Avoid Creating Obstacles in Aisles and Walkways

Trips and falls are different from slips and falls.  Trip and fall injuries are normally caused by housekeeping issues, maintenance issues or simple momentary hazards like clutter, materials and equipment in aisles, corridors, entranceways and stairwells.
Create and Maintain Proper Lighting

Poor lighting in the workplace is associated with an increase in accidents.  Be sure to use proper illumination in walkways, staircases, ramps, hallways, and basements.
Always Mandate Slip-Resistant Shoes

The shoes we wear can play a big part in preventing falls.  In fact, 24 percent of all slips and falls can be attributed solely to improper footwear.  The slickness of the soles and the type of heels worn need to be evaluated to avoid slips, trips and falls.
Encourage Individual Safety Behavior

This work condition is the toughest to control.  Everyone is human and makes mistakes or lets their guard down.  With productivity demands and fast-paced environments, employees may feel pressured to get their jobs done faster.  But taking shortcuts or hurrying through floor cleaning routines can lead to dangerous and costly results.
While you can do your best to train and lead strong safety practices, it's ultimately up to each restaurant to plan, stay alert and pay attention.  The time you invest in keeping your team and patrons safe is minimal compared to the dangers and costs of a severe accident.  Once your restaurant can establish exemplary floor safety procedures, everything will fall – into place.
Reduce costs. Reduce claims. Talk to our advisors today.
Let's get started: How many restaurants do you have?